Before you buy any playard, thinking it's the same thing as the Pack 'n Play, check out this guide where I listed all the differences between playpen types.
Parents are using different names when they talk about a playpen. However, the playpen is the name used to designate an enclosed area when your baby can play safely. It could look like a free-standing baby gate or a portable crib. Therefore, not every playpen has a floor mat. On the other hand, most playards comes with a mattress and can be used for sleeping. The most popular brand name of playard is the Pack 'n Play by Graco. Besides, I have noticed even more subtility between playpen and portable kid's bed. Let's take a look at it!
What is a playpen, playard, or pack 'n play?
Many parents, like my self, are asking about the difference between a playpen, playard, or pack 'n play. When I start researching for this article, I had the same question, and I was surprised to find out that those 3 names were mainly used to describe the same thing. Even the big stores like Amazon, Walmart, BuyBuyBaby, and Babies 'R Us are using all 3 names as synonyms. So don't worry if you are a little bit confused, you are not the only one.
Playpen, playard, or pack 'n play are names used to describe a small enclosure where babies and young children can play safely. This portable baby fence can be made of plastic or wood, while some other models have a metal frame with mesh walls.
This restricted area creates a safe space where your baby can have independent playtime without constant supervision. This allows you to cook, do chores, or simply take a short break. Nevertheless, children should never be unattended for an extended period of time.
While some playpens or play yards are mostly "free-standing" baby bates place directly on the floor, you have playards that can be used as portable kid's beds. In both cases, the walls on each side are high enough so your child can't climb out.
Playards are lightweight, foldable, easy to assemble, and come with a mattress. You even have 3-in1 playards that have a built-in bassinet, napper, and changing station.
The most popular playard is the Pack 'n Play from Graco. Just like Kodak, Kleenex, or Q-Tip, the brand Pack 'N Play has become so mainstream, that many parents are using it to describe a playard. The Pack 'n Play is a useful and versatile piece of furniture for parents with a newborn.
The bottom line is; playpen is the name of the category, which regroups the free-standing baby gates and the playards. While Pack 'n Play is a famous brand of modern playards.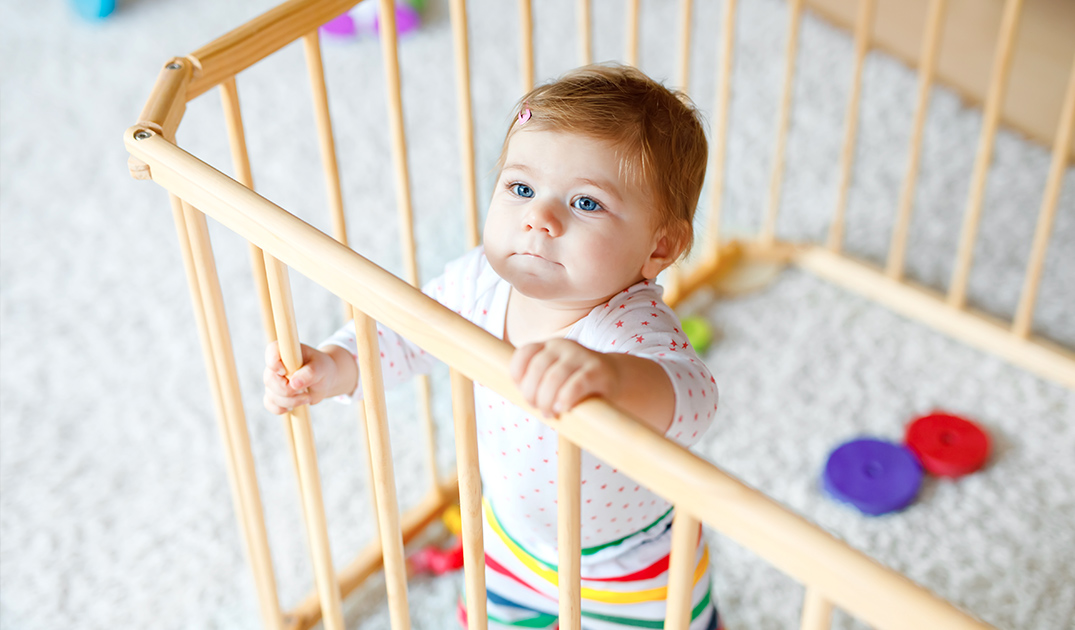 What is the difference between a playpen vs. a playard?
The word "playpen" appears around 1902 in the Oxford English Dictionary. It describes a simple piece of furniture that provides a safe space for your baby to be placed while you are occupied.
Last century, playpens were made of vertical wood bars, but today, the structure can be made of plastic, metal, and mesh. Playards usually come with a soft mattress, but it's not the case with every playpen. This is why many parents are adding a floor mat inside the playpen area.
Today, playards, like the Pack 'n play, are more modern and comes with all the bells and whistles. These extra features include a removable bassinet, changing station, storage, shelves, mobiles, storages, night lights, and more.
However, the more significant evolution is the collapse and fold features, which allow parents to store and transport the playard easily.
Also, the main difference is the cost, as the playards are usually more expensive than a basic playpen.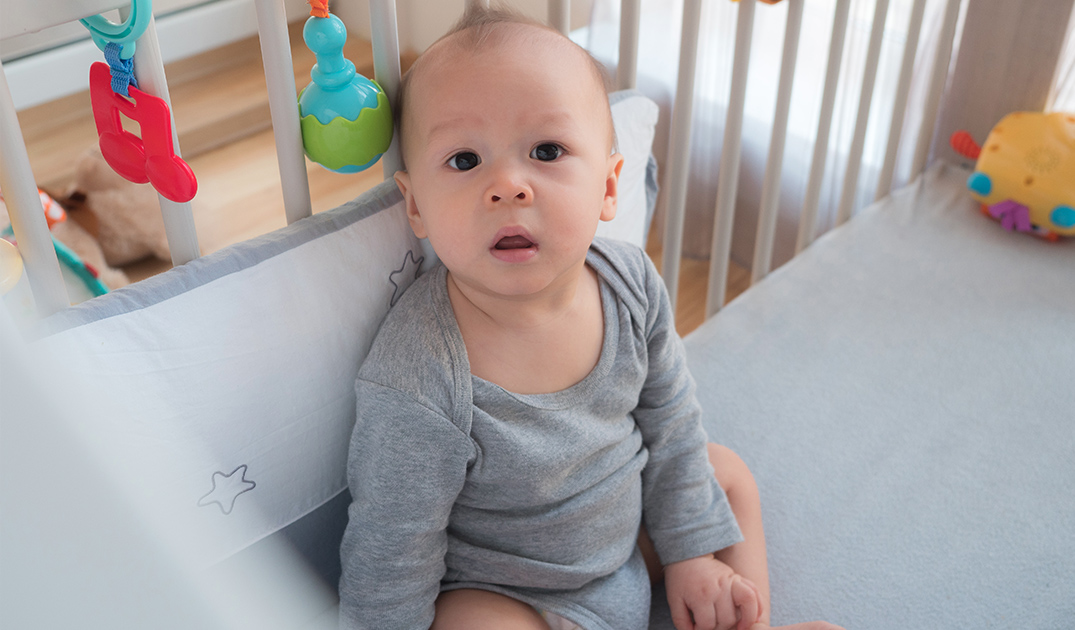 What is the main difference between a crib vs. a playard?
The main difference between a crib and a playard is portability and durability. Playards are made of lightweight materials, such as plastic and mesh, built on a foldable metal frame. On the other hand, a crib is usually made of wood, and once it's set up in a room, you can take it out the door frame without disassembling the whole bed.
The modern playard you can find at the store is really similar to a standard crib. Therefore, many parents are wondering if the playard is an acceptable sleeping option for their baby.
The short answer is yes, a playard can be used for sleeping, but it's not as comfortable as a crib.
Cribs usually required a mattress, which is 5 times thicker than a playard mattress. As your child grows, the thin mattress of the playard may become insufficient, and you'll need an upgrade.
Besides sleeping, both cribs and playards can be used as a safe place for your baby to play.
In my experience, having both is ideal, but if you must choose between a crib and a playard consider the following:
Both can be used to play and sleep (night or naps)
Playard take less space in the room
Playard can be easily folded and store away to free up space
Playard might require an extra mattress to be more comfortable
Cribs are more durable because they stay in the room
Cribs are usually more stylish than playard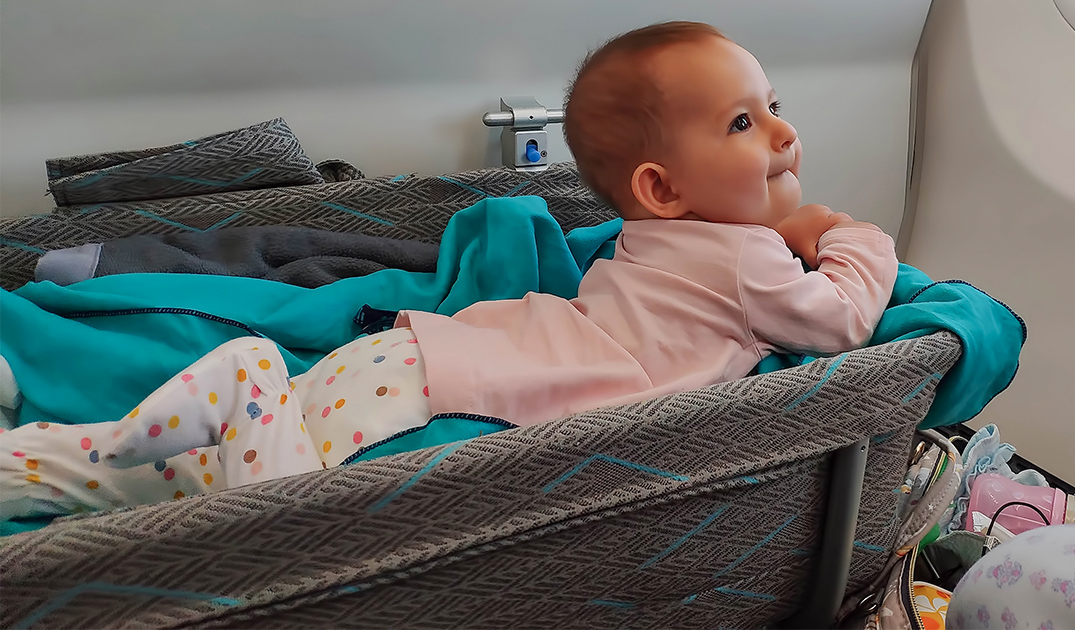 What is the difference between other types of portable beds for kids?
Playpens and playards are also compared (and even confused) with other types of portable beds. It's essential to know the difference because each one has a specific purpose.
Maybe one of those solutions will best suit your needs.
Mini crib
A mini crib is precisely what you think it is; a smaller version of a regular crib! It's not foldable or portable (like a portable crib or playard), even if it might come with wheels (like a standard crib).
The mattress of a regular crib is mainly 28 by 52 in. and a mini crib mattress is 24 by 38 in. This is the ideal solution when you don't have enough floor space available for a standard crib.
The only downside of a mini crib is the limited time your kid will be able to use it. You'll need to switch to a toddler bed sooner if you opt for a mini crib.
Portable crib
The portable crib is regularly confused with a playard because some manufacturer advertises their playards as portable cribs. However, a real portable crib is like a mini crib but with the option of being quickly disassembled. Each panel/side of the portable crib can be taken apart and lay flat to be store or transport easily. No special tools are required.
Portable baby bed
Even if playards are technically portable baby beds, they have different purposes.
A portable baby bed is intended only for sleeping, and they are not a safe space to let your child play without your constant supervision.
The playard has tall walls that keep your baby from "escaping," while the portable baby bed only has a small contour to keep your baby from rolling out of bed.
The most common baby bed is a simple rectangular frame made of fabrics or inflatable side cushions.
Some portable baby bed models look like a pop-up tent, and they are suitable only with a newborn. The material is lightweight and flexible but not secure enough for a baby that can crawl. Your little explorer could tip the bed and get stuck in an uncomfortable position.
Other types of portable kid beds are more similar to a camping bed. They have no safety railing on the side, as they are meant for older children (4 years or more).
Every type of portable bed can be folded and are ideal for traveling with young children. Still, playards have more useful features for everyday use.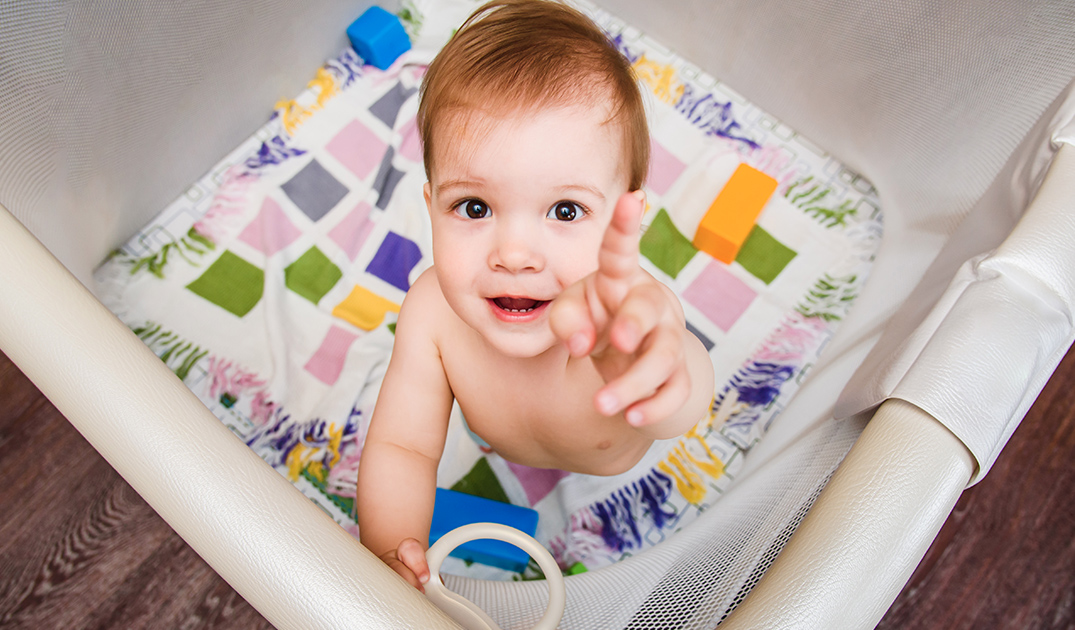 Features of a playards
Are you wondering what makes a playard, like the Graco Pack 'n Play, different from the other portable beds or play area for kids?
Let's take a look at the features of the playard, to understand better what's a playard and how is it different from a crib or a playpen.
Foldable
Most portable kid's beds are somewhat foldable, but the playard as the most effective system.
Each side of the playard can collapse, fold, and be store into a small rectangular travel bag. Once the playard is folded, it can be easily transported, and carry with one hand (like a duffle bag).
Also, because of its small compact size, the playard can be easily put under the bed or in the closet.
Portable
Playards were meant to be easily transported outside of the house. They come with a travel bag, equipped with a large zipped pocket and two soft handles. They easily fit into the trunk of a car or carry up the stairs with one hand.
Storage
All modern playards have some sort of storage. The more basic version has a large pocket on the side to keep the travel bag. However, some models have extra pockets for toys and diapers.
Bassinet
Some playard, like the Pack 'n play form Graco, comes with the bassinet feature. This allows parents to adjust the depth of the sleeping area by raising the mattress inside the playard.
This feature is only useful and safe with newborn babies, as they don't move that much and don't risk of rolling off the playard.
Also, in my experience, not having to completely bend over and put down your baby at the bottom of the playard is quite useful. First, there's no risk of waking up your baby, and it's much more comfortable to operate at night while you are still not completely awake.
Changing station & napper
Just like the bassinet, these extra features are quite useful for newborns and young children.
Some modern playards are equipped with a changing station. This platform is fixed at the top of the playard and can be used to change diapers. You'll appreciate having all your baby stuff available in one place, especially when you are visiting friends or family.
In my opinion, the napper feature is not as useful as the changing station. You could do without it by using the bassinet option instead. The napper is a platform located at the top of the playard and can be used to lay your newborn baby for a quick nap. However, you must be extremely careful with this option, because most incidents involving playards are related to the napper. Some parents forget to fasten their baby in the napper and didn't know their little one was able to roll until it's too late.
Both features can be useful, but always make sure to keep a hand on your baby and not leaving your little one unattended in the changing station or napper.
Mobile, lights and music
Some playards have more bells and whistles (literally), but are they really useful? Such features can become handy, like the lights and music, as they are intended to help your baby fall asleep.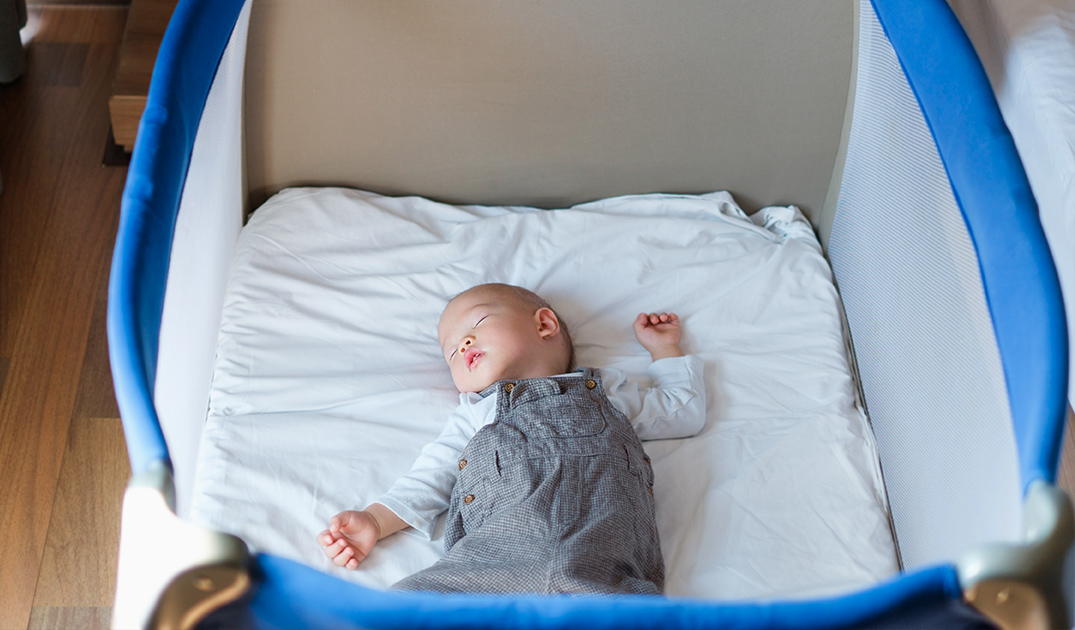 What is a playard used for?
The number one reason parents buy a playard is to use it as a portable bed while traveling. Also, because of its compact size, it's the ideal solution for a shared bedroom. Besides day time naps, a playard is extremely helpful as a safe place to put your child when you need a small break or take care of chores around the house.
For more information on the purpose of a playard, check out my this article I wrote about what are playpens used for, and is it really helpful?
Takeaway
Not every playpen is made the same, and depending on your need, a free-standing baby gate, a playard, or a portable crib, might suit you best.
If you need a safe place where your kid can have independent playtime during the day, while you take care of some chores around the house, the basic playpen or the baby gate is a good option.
However, if you plan on using the playpen for day time nap or as a portable travel bed, you should go with a playard, such as the Pack 'n Play from Graco.
On the other hand, if you have limited floor space in the bedroom for a standard crib, you could also look at the mini crib. The mini cribs are not portable, but they look very stylish!
Finally, in my opinion, the playard is the most versatile and most valuable option of this list.
---