Here's your option when it comes to parental control on iPhone and iPad. I have listed the best and free parental control apps for all Apple devices.
This guide will cover:
Like a proper techno-dad, I love everything about my iPhone, its easy-to-use operating system, better security, and faster performance than Android devices. Being a veteran iPhone, I cannot bear the trouble of learning how an Android works. 
If you are an iPhone-obsessed parent like me, I'm sure you could not think of a better phone to get for your kids. Mainly because we know how it works. 
However, just the idea of my child having a personal phone raised many questions in my mind. Besides being proactive and transparent with my child as much as possible, I felt the need to monitor his screen time.
To have some level of control over what my kid sees and does across the phone, I searched for apps that could help serve my needs. Here are the apps that I loved the most and why.
Best Free Parental Control Apps For your iPhone and iPad
Just like other Android and Google platforms, iOS also offers an accessible parental controls app on their phones and tablets. And the great thing about this app is that you neither have to download it nor set it up. Apple's screen time app is built-in software that provides unique monitoring features like most competitor apps.
Apple's Screen Time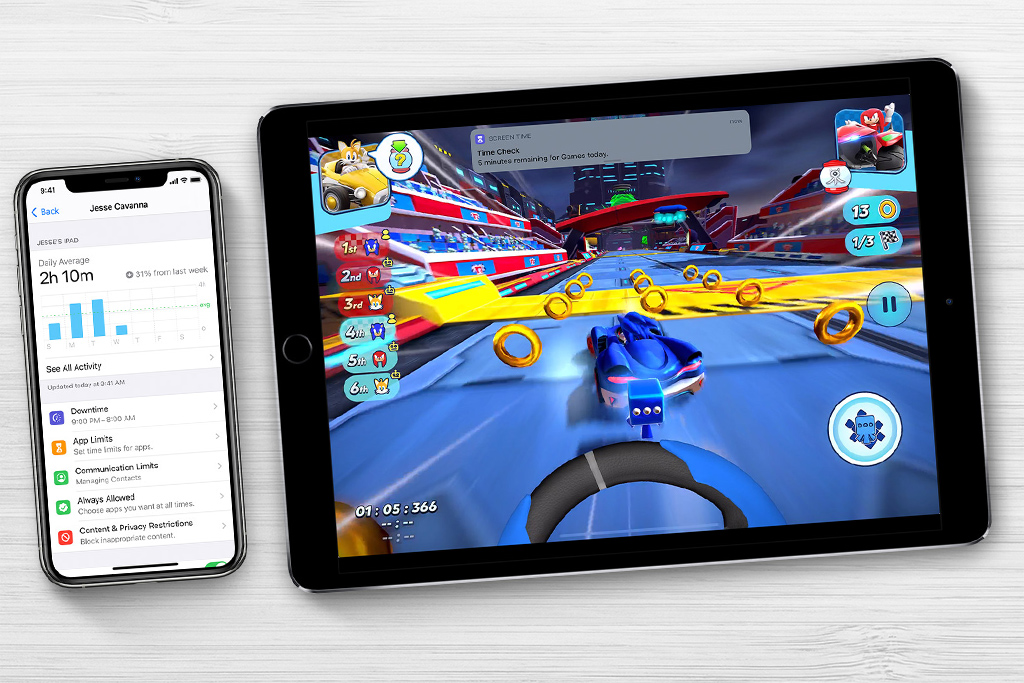 The Apple Screen time parental control app is effective in monitoring and restricting inappropriate content. Moreover, it's free to use across any iOS device. 
However, one downside of this software is that it does not allow you to geofence your child like other popular parental control apps in the market (such as Bark).
To set this up, simply go to Screen Time in settings and choose 'this is my child's device' from the device you want to set controls on. You can also restrict certain apps from downloading on your child's device through the app store.
Let's go over the main features in detail.
IOS parental control features
Apple's Screen Time lets you control your child's time limits across apps, restrict inappropriate content across websites and apps, and track online activity across all apps downloaded on your child's device. Another handy feature is the content and privacy restrictions feature. It enabled you to restrict your child's reach to specific music, shows, and films meant to only adults. 
Downtime 
This feature allows you to set downtime periods for your child's phone. It's an excellent solution for helping them manage their screen time. However, to be safe, you can select phone numbers and apps that your child can always access. If your child needs extra time to finish something important, you can increase the limit to 15 minutes, an hour, or all day. Obviously, this feature is password protected.
App Limits
Screen Time lets you set app limits for each app across the device. For example, you can allow productive apps to be accessed during the day and restrict your child from using social media apps during school time.
Communication Limits
Communication limits let you set limits on the phone, FaceTime, text messages, and iCloud contacts. You can allow your child to use the emergency contacts throughout the day and during downtime. But for this feature to work, you will need to have iCloud contacts enabled on the device.
Always Allowed
This feature lets your child freely access certain apps, like phone calls, text messages, FaceTime, and maps. Though these apps are always allowed by default, you can remove the one you want.
Content and Privacy Restrictions
This feature lets you control the content that appears across the device and apps used by your child. It blocks inappropriate content, downloads, and purchases on the device. I was also able to set privacy settings with this feature, which was really helpful.
For more information about this built-in parental control feature on iPhone and iPad, visit Screen Time's official site here!
Best Parental Control Apps for an iPhone and iPad With Text Monitoring Features 
Bark and Qustodio are among the best parental control apps that let you access your child's texts and calls as well. 
Here's what these apps offer:
Bark parental control app for iPhone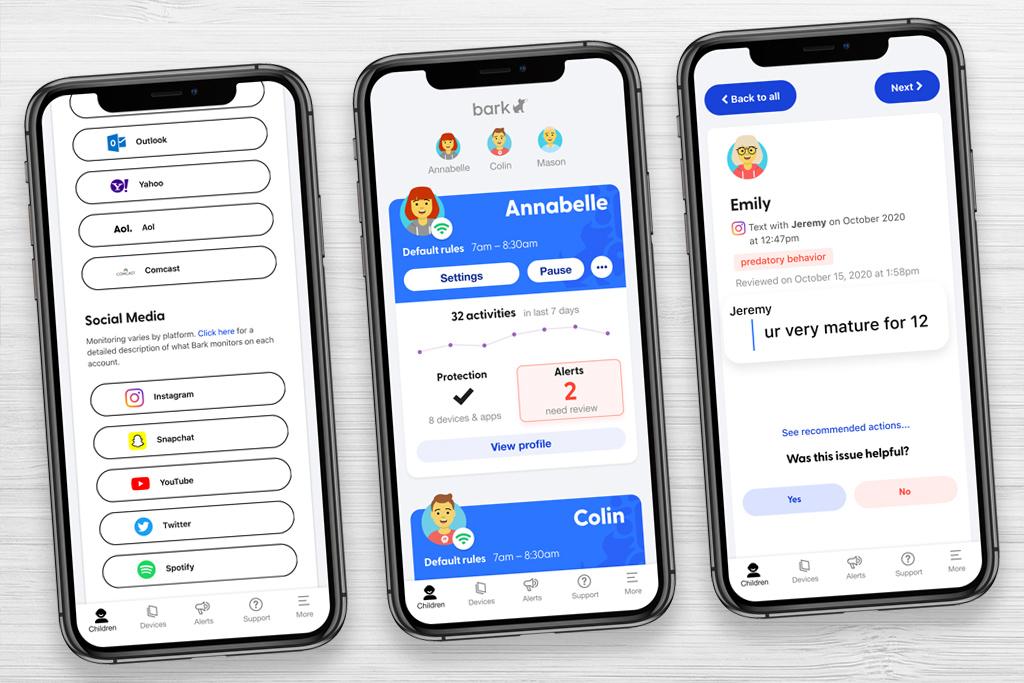 Bark is one of the most inclusive parental control apps in the market and is best for social media, text and email monitoring, and setting screen time limits. It is also compatible with Chromebook, Android, and iOS devices and can be downloaded on as many devices as needed.
Bark features
Bark screens the social media, texts, and emails and looks out for the signs of potential problems like anxiety and depression, cyberbullying, self-harm, online harassment, sexual content, drug and alcohol-related content. Bark uses artificial intelligence and advanced machine learning algorithms to filter specific keywords on social media, texts, and emails. Moreover, it restricts risky app, website usage, and alterations within account activity.
Bark also facilitates you to catch slangs, acronyms for swearing, and obnoxious emoji use by my child. Apart from web filtering and screen time limit features, I also loved its check-in feature.
For more information, visit the Bark official website here!
Qustodio parental control app for iPhone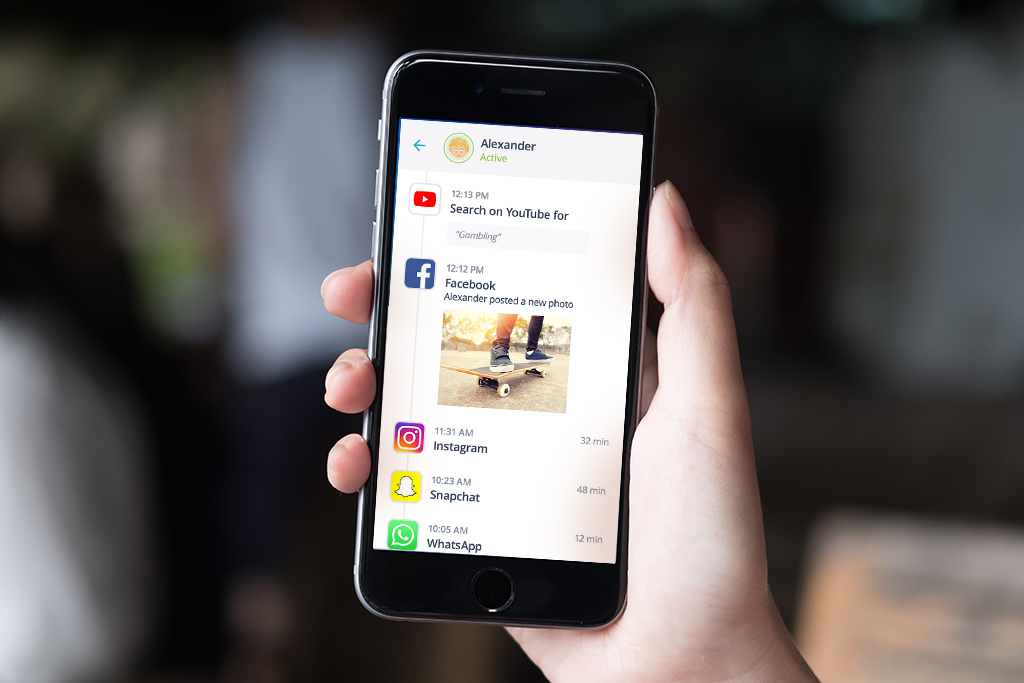 Qustodio is another app that marvelously serves parents like me, who wish to keep their children safe from cyber threats and inappropriate content. It supports multi-platforms like Chromebook, Android, and iOS devices. It has a pretty basic interface that's very easy to use for non-tech savvy users.
Qustodio features
The Qustodio parental control app is best for tracking your kids' activity on websites and social media. It allows you to set screen time while restricting access to inappropriate content. Moreover, the app enables you to set time limits and filters for websites and apps in use by your kid and access their usage history on browsers. This is an app that does more than just essential adult content protection. It helps you keep your kid safe from online victimization and stalking and let you surveil their social media accounts and online chatting.
Qustodio has a premium feature called the panic button and SMS monitoring that helps parents monitor text messages and combat cyberbullying. Social media monitoring and location tracking allow you to track location and block specific phone numbers.
For more information, visit the Qustodio official website here!
Apple's Screen Time Vs. Other parental control apps
Apple's Screen Time is popular among its users for its filtering, contact blocking, and downtime features. These features are as good as any other parental control app in the market. Another reason that makes Screen Time the best choice for iOS users is that you do not have to install a mobile device management profile to function correctly, unlike other parental control apps.  
However, other parental control apps like Bark and Qustodio offer various advanced features like geofencing, SMS and call monitoring, advanced app and content filtering, and email monitoring. But these premium features cost a fortune. 
Most of the parental control apps, unlike Screen Time, also support multiple platforms.
What Is A Good Parental Control App For iPhone and iPad?
Apple's Screen Time is undoubtedly the best choice for parents looking for ways to surveil their child's social media and phone activity overall for iOS devices. For it does not only let you set downtime across apps but also filter inappropriate apps and content. Moreover, you can also block specific contacts, messages, and FaceTime through shared iCloud contacts.
The downside of this software is that it only works for iOS devices and does not offer advanced monitoring features like geofencing or call, email, and chat reviewing. There are several ways to work around this software, which shows that it is not as reliable as Apple claimed it to be.
iPhone Vs. Android Parental Control Apps
If you wish to monitor iOS devices, your best option is Apple's own built-in Screen Time software. It does all the essential web, app, and screen time monitoring that the best competitor app in the market does. You will find a wide range of app-blocking and web filtering options within the restrictions section as well.
Using other parental control apps on iOS devices is not that reliable, as the software requires you to install a mobile device management profile. Only through a mobile device management profile can you access all the features offered by third-party apps.
Features to Look for In A Parental Control Software/App 
Here is a list of features that every good parental control app should offer:
Safe web browsing
Content filtering across web and apps
Restricting screen time
Restricting in-app downloads
Safe texting
Online activity reports across the apps
Social media monitoring
App usage limits
Time-extension requests
Slang alerts
Content filtering updates
Takeaway
Giving children privacy is a good thing but ensuring that my children are safe in the online world is also my responsibility. And I believe that parental control apps are one way to do that. 
There are various apps and software in the market, but for me, the best ones are those that work best on my devices and suit best to my needs. Being an Apple user, the Apple Screen Time app seemed to be the best choice for me and my kid, as it offers basic filtering and monitoring at no price at all. 
But suppose you are looking for more than essential surveillance and filtering and need to monitor Android or Windows devices. In that case, Bark, Net Nanny, or Qustodio might be a better choice for you. 
I hope this article will help you in making the right choice!