Read this before getting any parental control app. Here's a full review of the pros and cons of the Net Nanny app, plus alternative parental control app options.
This article will cover:
Parental control apps are a great solution for parents looking to end their children's screen addiction. Moreover, with growing online schooling, it has become even harder to track our children's online activities. Hence, they could be doing anything in the name of homework. In this area of digital media, the only way to limit our child's access to age-appropriate content is through parental filters. 
There are several parental control apps in the market, but the ones that offered monitoring over all the children's devices stood out the most for me. Net Nanny is one of the oldest and most useful apps that I came across during my search. I came up with this detailed review of the Net Nanny app to help you make an educated decision on this subject.
Net Nanny App Review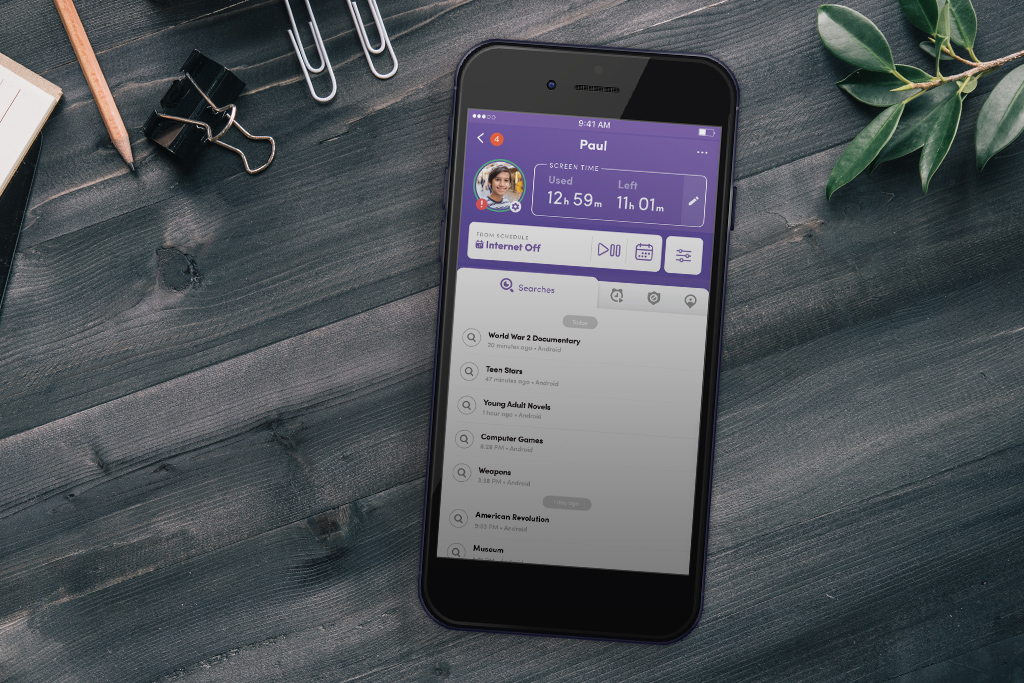 Net Nanny is a veteran in the parental control app market. It offers some excellent filtering and monitoring features for parents looking to keep their children safe in cyberspace. 
Besides its internet-filter roots, it provides advanced tools for blocking certain apps and restricting app limits across the screens. Compared to its past software, Net Nanny is no longer vulnerable to workarounds, thanks to the latest version. However, it could still do a better job at geofencing tools. 
Let's dive deeper into it!
What Is Net Nanny?
Net Nanny is a parental control app that offers monitoring and filtering features to its users, i.e., parents across various internet devices. Moreover, this parental control software supports multi-platforms like Windows, PCs, Macs, Kindle Fire tablets, iOS, and Android devices.
Who Owns Net Nanny?
Net Nanny was designed, created, and founded by Gordon Ross in 1993. It was then purchased by ContentWatch, in January 2007. In 2016, Net Nanny was acquired by Zift, a digital-parenting company. They rebuilt the app for mobiles and renamed it Zift. In May 2019, the company decided to switch the name back to Net Nanny and is known by the name ever since.
Ok, enough with the history class! You probably want to know what Net Nanny is all about.
What Does Net Nanny Do?
Net Nanny offers a wide range of parental controls tools, like web content filtering, app filtering, app limiting, and content screening. It makes sure that your child doesn't have any access to inappropriate content across the sites through its real-time scanning feature. 
Besides filtering content, this parental control app helps parents pinpoint their child's GPS location and view their route history. Moreover, there's a geofencing feature that helps create boundaries over a virtual map. Very helpful to know if your child is going somewhere forbidden or leaving the area in the wrong direction.
What Does Net Nanny Monitor?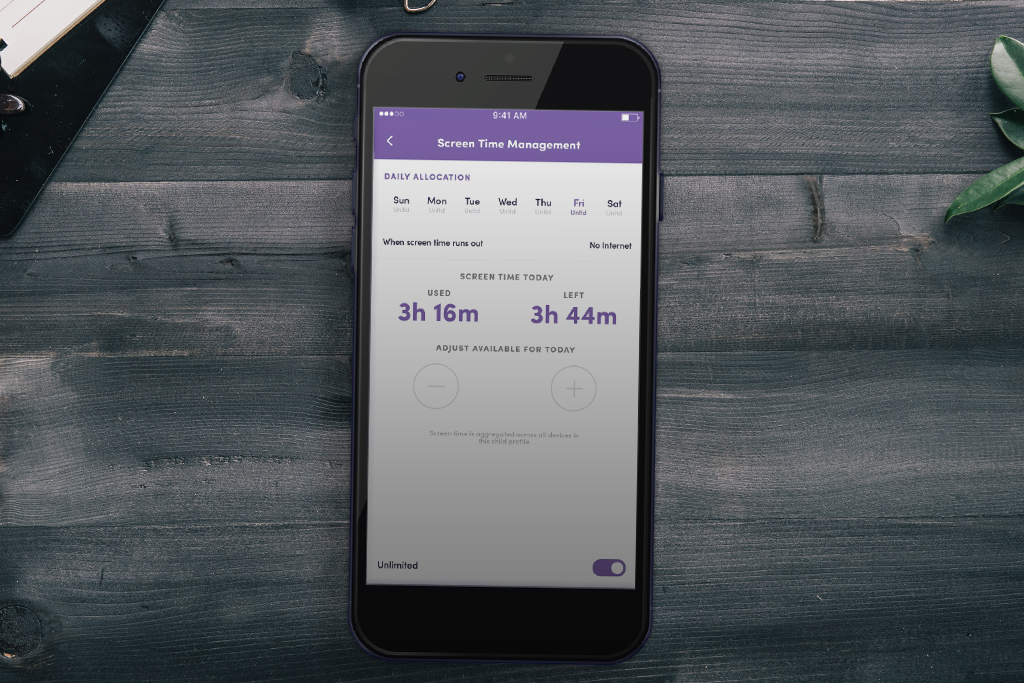 Net Nanny monitors screen time across various platforms (Laptop, Mobile, Tablet). It allows parents to set time limits on their child's device, either for the current or the next few days. Upon reaching the time limit, parents can either extend the periods or block access for the specific device.
With its geofencing feature, you can set geographic regions like school and home locations on the map and get alerts when your child enters the desired location.
Does Net Nanny Monitor Text Messages?
Despite all the monitoring features, it does not let parents view their child's text messages or call history. Though many other apps in the market offer this feature, Net Nanny still has not introduced this feature in its app. 
Can Net Nanny Monitor Snapchat?
Net Nanny Social helps parents monitor their children's online activity thoroughly across social media apps. By using a simple, web-based dashboard, parents can monitor certain activities like pictures posted, accepted friend requests, and other social media activities across their children's personal devices.
What Does Net Nanny Track?
With its location tracking feature, Net Nanny can track the location of your child. It gives you a history of the device's location so that you can see where your child has been during the day. It also shows your child's device's location history for the last 30 days to its premium subscribers.
What Does Net Nanny Block?
Net Nanny blocks inappropriate content along with the websites and records any activity made during the usage. It also allows parents to block their child's access to certain apps, i.e., social media apps or games, on all platforms.
Does Net Nanny Work in Incognito Mode?
Yes, Net Nanny does work in incognito mode and ensures that the inappropriate content stays out of reach from your child's access.
Pros and Cons of Net Nanny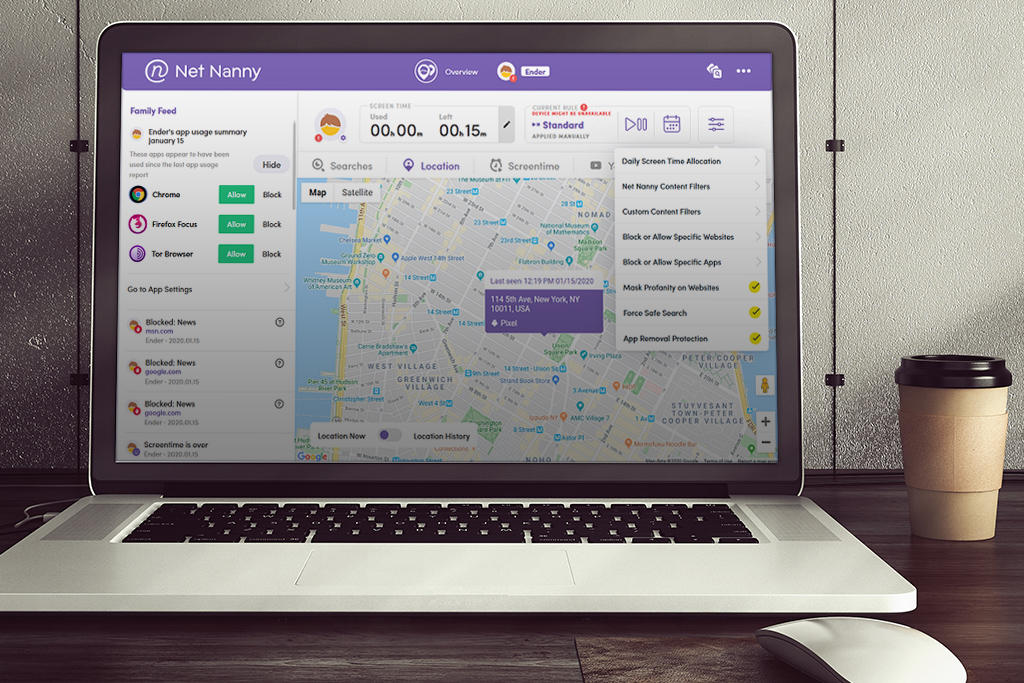 Let's go over the pros and cons of the Net Nanny parental control app!
Pros 
Allows time-out remotely
Provides extensive reports and logs
Consists of a comprehensive parental dashboard
Allows location tracking
Blocks pornography sites
Offers excellent web filtering
Offers almost the same features across Android & iOS
Top-notch web filtering capability
Filters social media and Tiktok feed filtering
Easy to manage on a child's end
Guides through the installation process                                                                
Provides a 30-day log of the web, location, and screen time history
Cons
Quite costly
Doesn't allow social media monitoring
Doesn't allow reviewing chat and call history
Doesn't let you block contacts or unidentified numbers
Hard to setup
Complicated jargons on the dashboard
Geofencing features are not that advance
Doesn't offer daily screen time management
Prices vary according to the number of devices
Doesn't offer a free trial
Issues with Net Nanny
Net Nanny has significant issues that might put off some parents. For instance, installing Net Nanny takes almost an hour and can be overwhelming for parents. However, downloading and installing Net Nanny is relatively easy. As the app mainly involves tracking, most setup options included a single yes or no choice.
The parent dashboard of Net Nanny is also hard to figure out. It involves wording that can be pretty confusing for parents; for instance, the option Paused from schedule doesn't imply that Net Nanny is pausing the program. Instead, it meant that the device has been paused because of the set schedule. It took me a lot of time to understand the app's jargon, but once you get the hang of it, it becomes easier to navigate across the options.
Price
Unlike other parental control apps or software, Net Nanny does not offer a free trial or a basic free version for its users to test. Net Nanny costs around 39.99 dollars for a basic yearly package and allows only one desktop device to be monitored. Its 5-device plan costs 54.99 dollars per annum, whereas the 20-device plan costs 89.99 dollars per year.
Promo Code for Net Nanny
Net Nanny offers several promotion codes to its users all around the year. Right now, Net Nanny is offering a Holiday Promotion for 30% off (Code: HOLIDAY11) to people. You can combine this promo code with any other codes and get almost 41% off your purchase. However, some of these promotion codes have an expiry date, and some not. So, grab the offer while you can!
Is Net Nanny Free?
If you are looking for a freemium model of Net Nanny, then you can get a mobile app for no price at all. However, you might need to buy its basic model to enjoy its features thoroughly. The free mobile app only allows you to access the parent app and not the child one. The free version consists of editorial parts of the Family Feed and the web-based parent portal. This web-based parent portal consists of tips and information on how you can keep your children safe online. But doesn't let you monitor your child's activity on his device. For that, you will have to buy the other app and download it on your child's device.
I noticed that upon signing up, I got access to its premium features for three days, which included both parent and child app. However, those 3 days weren't enough to review and make up my mind about using the app.
Net Nanny's Compatibility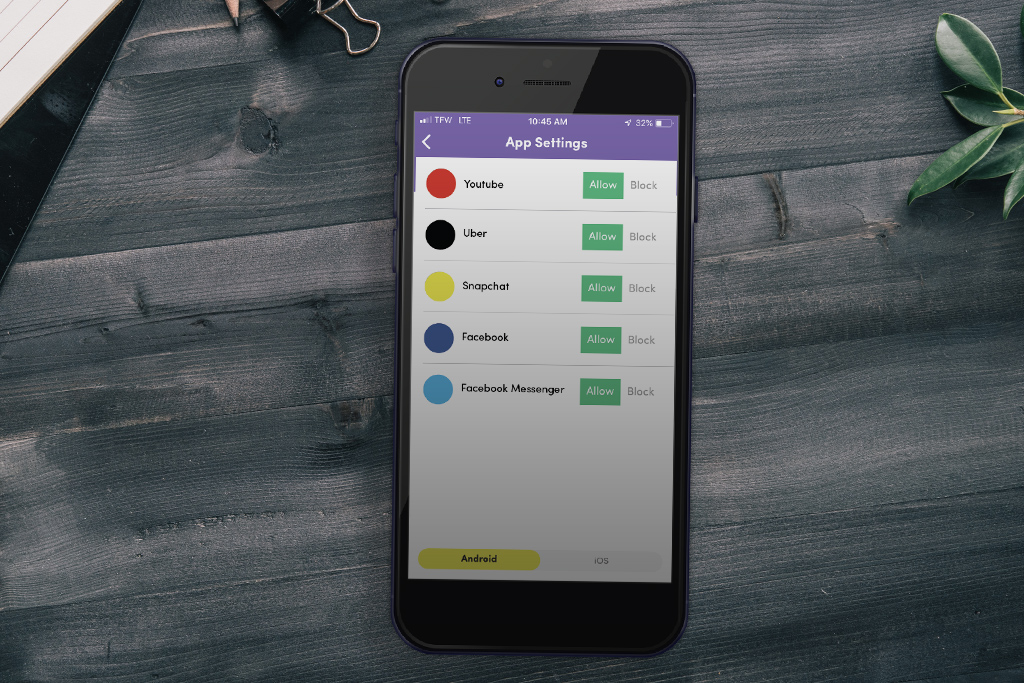 Among all the parental control apps in the market, Net Nanny offers almost the same features across all platforms. Despite iOS's policy changes and software compatibility issues, it provided the same range and quality features for Windows and Android. 
Net Nanny offers the following features for iOS:
Filter's internet
Block's websites
Block's adult content and websites
Blocks apps on the app store
Sends Alert of the online activity
Limits the device usage
Monitor's searches made on the internet
Controls and allows you to review your child's screen time usage
Check the online activity through the family feed
Tracks your child's location through geofencing tools
Can Net Nanny Be Downloaded on iPhone?
Net Nanny can be found on the app store by the Net Nanny Parental control app and the Net Nanny Child app names. On iOS, the app uses a certificate installation through the Safari browser and asks the user to allow a few authorizations. Overall, I loved how it helped me through the installation process and explained each authorization before asking for approval. 
Can Net Nanny Be Downloaded on A Chromebook?
Net Nanny cannot be downloaded on Chromebook for it is not compatible with it. However, to monitor my child's online activity on Chromebook, I made sure to turn off the guest browsing features and set up dedicated user accounts.
Does Net Nanny Work on Kindle Fire?
Net Nanny for kindle fire is one of the best parental control software to protect your child online from viewing inappropriate content. It allows you to filter the website content, block inappropriate websites, set time limits for the device usage, restrict your child's kindle tablet, and supervise your child's activities across websites. 
It provides the following features for Kindle Fire:
Filters the internet
Block's adult content and websites
Blocks inappropriate and illegal websites
Send Alert of the online activity
Limits screen time for devices
Surveils online research made by your child
How Does Net Nanny Work?
Net Nanny lets you supervise your child's online activities and lets you control both the quality and grade of the web search. Net Nanny utilizes artificial intelligence that reads the Website's URLs and detects if the website has inappropriate content or not. 
This filtering feature is quite efficient as compared to most apps in the market. It has three levels of filter categories Allow, Alert, and Block. Allow lets your child access the site without recording the activity; similarly, Alert allows the access and records the activity. Block, however, does not let your child access the compromised sites and records the activity for parents to review. Furthermore, the Net Nanny app advisor gives you tips on which apps or websites should be blocked to better your child's safety.
Net Nanny also allows you to schedule internet hours for daily or weekly activities. When your child reaches the internet limit, you can either let them more time or block them from using the internet on their device.
Net Nanny's geofencing feature allows you to locate your child in a defined geographic region. However, this feature is not as sophisticated as other competitor apps, for I couldn't determine the size of the geographic area or create a custom border.
Net Nanny lets you manage the settings through the mobile app, PC, or Mac. However, it does not record the history of videos watched on YouTube, which was quite disappointing as YouTube has much inappropriate content. I also wanted to know what kind of content is being watched by my child, but the app failed to monitor it for me.
Net Nanny Download
To get started, you first have to sign up and proceed with the payment, followed by downloading the app on every device you wish to monitor.
The process of downloading the app on windows is relatively easy, as all you have to do is install, launch and sign into the app. However, On Android, you have to download the child app and sign in. Then, select the filter profile suiting to your needs, allow the permissions it asks for, and enable push notifications.
For iOS devices, I had to follow the same installation steps as I did for Android. Except for I have to install an additional MDM profile to get full access to Net Nanny's features.
Alternatives to Net Nanny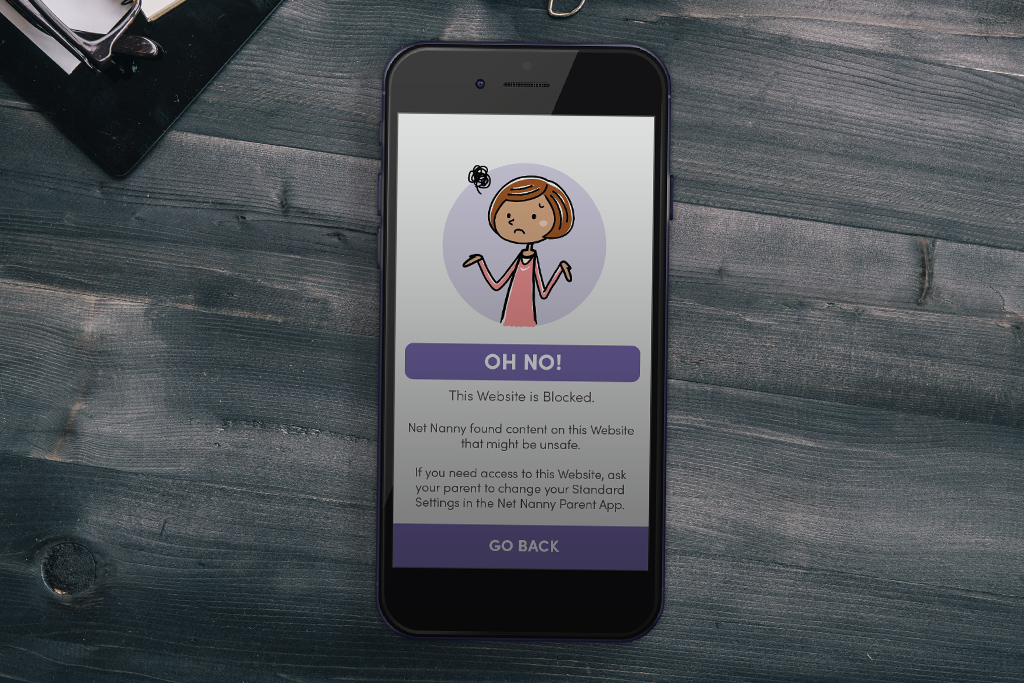 Like Net Nanny, several parental control apps and software in the market offer the same filtering features, in fact, better or at a lower price. 
Here are some of the cheaper alternatives that I found to find the best parental control app during my journey.
Screen Time Vs. Net Nanny
Screen Time is a built-in parental control software that iOS offers to its users for free, unlike Net Nanny, which is quite expensive. It also requires no download and is super easy to set up even for non-tech savvy parents.
The software is best for getting real-time reports on your child's activity across the phone and the apps. Its main features include screen time management, downtime, app, and web filtering, contact blocking, and location tracking. 
The best part that I loved about Screen Time is that it lets you monitor and block messages and Facetime from specific contacts, which is impossible in Net Nanny. All the Screen Time settings are password-protected, which means that no one except me could change the privacy and restriction settings on my child's device.
For more information, check out Screen Time official site here!
Family Zone Vs. Net Nanny
Family Zone is a parental control app that lets parents define boundaries in the online world. 
Its features include:
Screen time management.
Web and app filtering.
Social media management.
YouTube content blocking.
Restricting in-app purchasing.
It also offers premium features like managing access to mobile games, disabling various features like camera or screen recording, and sending reports and alerts to parent devices. Net Nanny, however, doesn't offer features like social media management and feature disabling. These features help parents have extra control over their child's online activities.
Also, Family Zone protects children anywhere, regardless of the cellular network or WIFI they are connected to. It monitors up to 6 devices at relatively cheaper rates than Net Nanny. Moreover, it also offers a 30-day free trial that is more than enough time to make up your mind, unlike Net Nanny, which offers no trial period. All these extra features make Family Zone a far better choice than Net Nanny. 
For more information, check out Family Zone official site here!
Famisafe Vs. Net Nanny
Famisafe is another excellent parental control app. This app lets parents manage screen time, filter web and app content, add rewards, geofence their child, monitor suspicious content across social media and messages, and detect signs of cyberbullying.
Unlike Net Nanny, Famisafe sends parents a notification every time suspicious content appears on my child's social media or messages. It lets you detect any signs of your child getting bullied across various apps and messages with its cyberbullying feature. Moreover, you can add specific keywords to detect inappropriate content on social media posts, messages, and comments.
Famisafe also has a pretty sophisticated geofencing feature, unlike Net Nanny. It lets you define a geographic map on the device and alerts you when your child leaves the defined radius.
For more information, check out Famisafe official site here!
Circle Home Plus Vs. Net Nanny
Circle Home Plus is a parental control router that helps parents filter the web content, set time limits for internet usage, monitor browsing history, and track location. It allows you to set and adjust the family profiles individually.
Unlike Net Nanny, it applies the settings on the WIFI and needs no installation of apps on parent and child's devices. Moreover, it uses cloud-based storage to store data, which makes it very efficient and reliable. Circle Home Plus applies filter settings to each device at home, be it a smartphone, tablet, or gaming console. Net Nanny and Circle Home Plus have almost the same subscription charges. Still, unlike Net Nanny, it can manage unlimited devices.
For more information, check out Circle Home Plus on Amazon here!
Bark Vs. Net Nanny
Bark is one of the best parental control apps in the market. Which is best known for restricting sensitive content across various apps and browsers and helps parents monitor their children's social media activities efficiently. Unlike Net Nanny, Bark screens the social media, texts, and emails and looks out for the signs of potential problems like anxiety and depression, cyberbullying, self-harm, online harassment, violence, sexual content, drug and alcohol-related content, risky app or website usage, and changes in account activity.
Moreover, Bark allows unlimited devices to be monitored. It offers a free 7-day trial period as compared to Net Nanny that offers only 20 devices to be monitored and no free trial period to its users.
Bark also helps parents catch slang, acronyms for swearing, and objectionable emoji use. However, Bark is comparatively expensive than Net Nanny, but that's understood for it offers excellent basic and premium features that are no match to Net Nanny.
For more information, check out Bark's official site here!
Mobicip Vs. Net Nanny
The Mobicip parental control app supports all platforms, unlike Net Nanny, which doesn't support Chromebook. Mobicip offers 4 filtering categories to parents, which are Mature, Moderate, strict, and Monitor. The Mature, Moderate, and Strict levels block all kinds of sensitive content across the websites. In contrast, Monitor level allows your child to access everything but records them for you to review.
Unlike Net Nanny, the time scheduling feature of Mobicip restricts the whole device usage and not just the internet usage. It also has a phrase section that you can use to add certain words and phrases that you want to be blocked on search engines, websites, articles, and pages. However, Mobicip lacks the geofencing tool and offers to monitor up to 4 devices only.
For more information, check out Mobicip's official site here!
Norton Family Vs. Net Nanny
Norton Family offers a wide range of filtering categories that can easily be turned on with one click. Unlike Net Nanny, Norton Family offers age-appropriate settings according to the age group that your child belongs to. These settings are applied automatically across the devices relative to the age group you selected.
Another great feature that sets Norton Family apart from Net Nanny is its ability to filter the web across several search engines like Google, Yahoo, Bing, YouTube, etc. It also sends alerts to the parents to allow or block any app, prevent downloads and in-app purchases with just a click.
Norton family also offers advanced features like monitoring your child's contacts, messages, and location. However, it provides much more features on Android devices than on iOS devices. It is also unable to filter web searches on Safari. Furthermore, it also does not offer any feature for monitoring Facebook and other social media apps on Android and iOS.
For more information, check out Norton Family's official site here!
Takeaway
The best way to set limits to this ever-expanding digital world is through parental control apps. Net Nanny is among the first parental control app, providing all the right solutions to parents for many years. 
Being a concerned parent, I tried and tested many parental controls to see their effectiveness in filtering web content across various browsers and platforms. From my experience, I have learned that Net Nanny's ability to filter content across the web and apps is second to none. It filters the content across all browsers, even in private mode, which most apps fail to do. It offers some decent monitoring tools, screen time management, and geofencing resources as well.
Nevertheless, if you are a parent like me, who is more concerned about filtering the content than other monitoring features, the Net Nanny would be the best pick.